The charge was made recently that the C&C Proposal, "does not stipulate the speed at which it must occur, which is clearly the central question to be answered."
It is the central question to be answered but the charge does not stick. Over the last twenty years, GCI has arguably made more effort than any other agency in the entire UNFCCC-process to elucidate, answer and communicate answers to this point about the rates of C&C that are required for UNFCCC-compliance and so show how negotiators at the UNFCCC can be assisted to come to an effective global agreement. This inevitably requires solving the problem faster than we are creating it - quite a challenging thing to conceive and to communicate and certainly a challenging thing to achieve.
A few examples of GCI's efforts on this question follow: -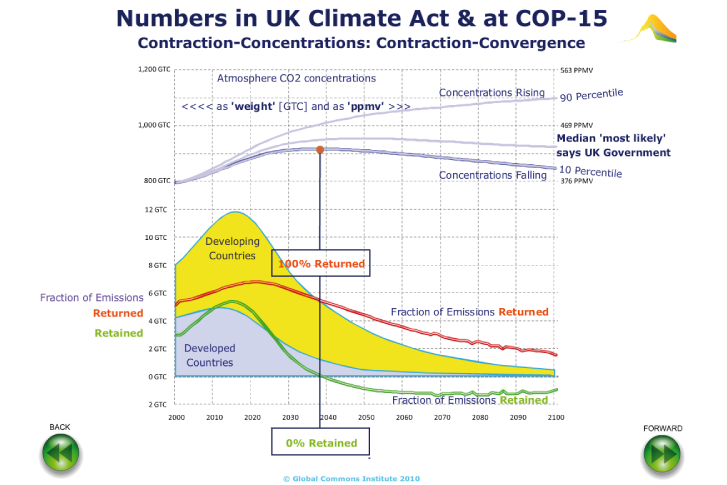 Presentation/animation: An assessment of 'Contraction & Concentrations' and 'Contraction & Convergence' and the C&C targets and modelling behind various rates of 'sink-efficiency' in the UK Government's 'Climate Act' [2008]. Also for 'download and save' as a self-executing PC file here & Mac file here

The '50:50' odds the UK Government gave for avoiding a temperature rise globally of more than two degrees with their emissions scenario are examined in this context. The letter dated 8th June 2010 from eminent persons sent to the UK Secretary of State for Energy and Climate Change about these matters is here: -
http://www.gci.org.uk/politics.html


Presentation/animation puts C&C in the context of IPCC AR4 [2007] and the so-called 'coupled-carbon-cycle' modelling reported quantitatively for the first time since IPCC FAR 1990. Essentially, due to 'positive feedback' effects in the carbon cycle, where rising temperature amplifies the rate at which atmospheric GHG concentration increases, accelerated rates of carbon emissions contraction are needed to meet a given concentration outcome. This is the increasingly crucial issue of changing rates of 'Sink-efficiency'. In depth analysis of this in relation to the UK Climate Act is here: -
Evidence to UK Environmental Audit Committee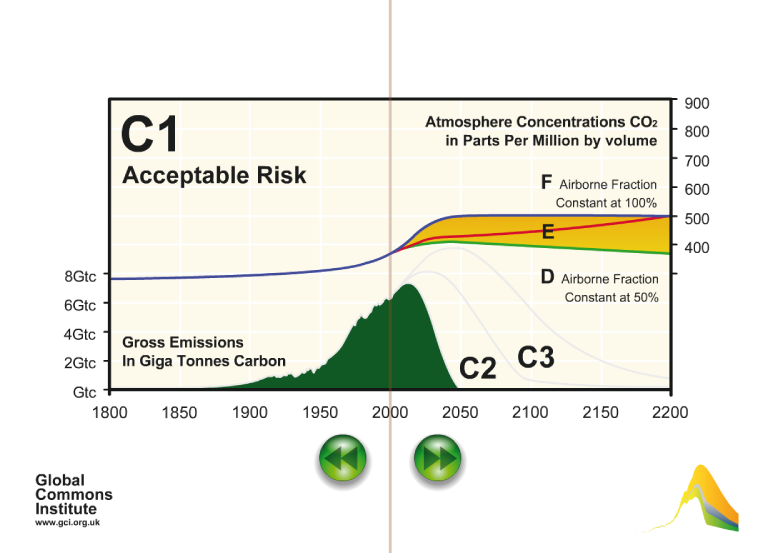 Presentation/animation: used at the RIBA Summit [2006] Venice.
In the context-overview at: - Acceptable Dangerous Impossible Risk overview, the Acceptable [C1] Dangerous [C2] Impossible [C3] Rates of C&C animated here and this supports the short article at: - Climate Action book 2007 C&C discussed in more detail here: - C&C_Chapter_Levene_Book_.pdf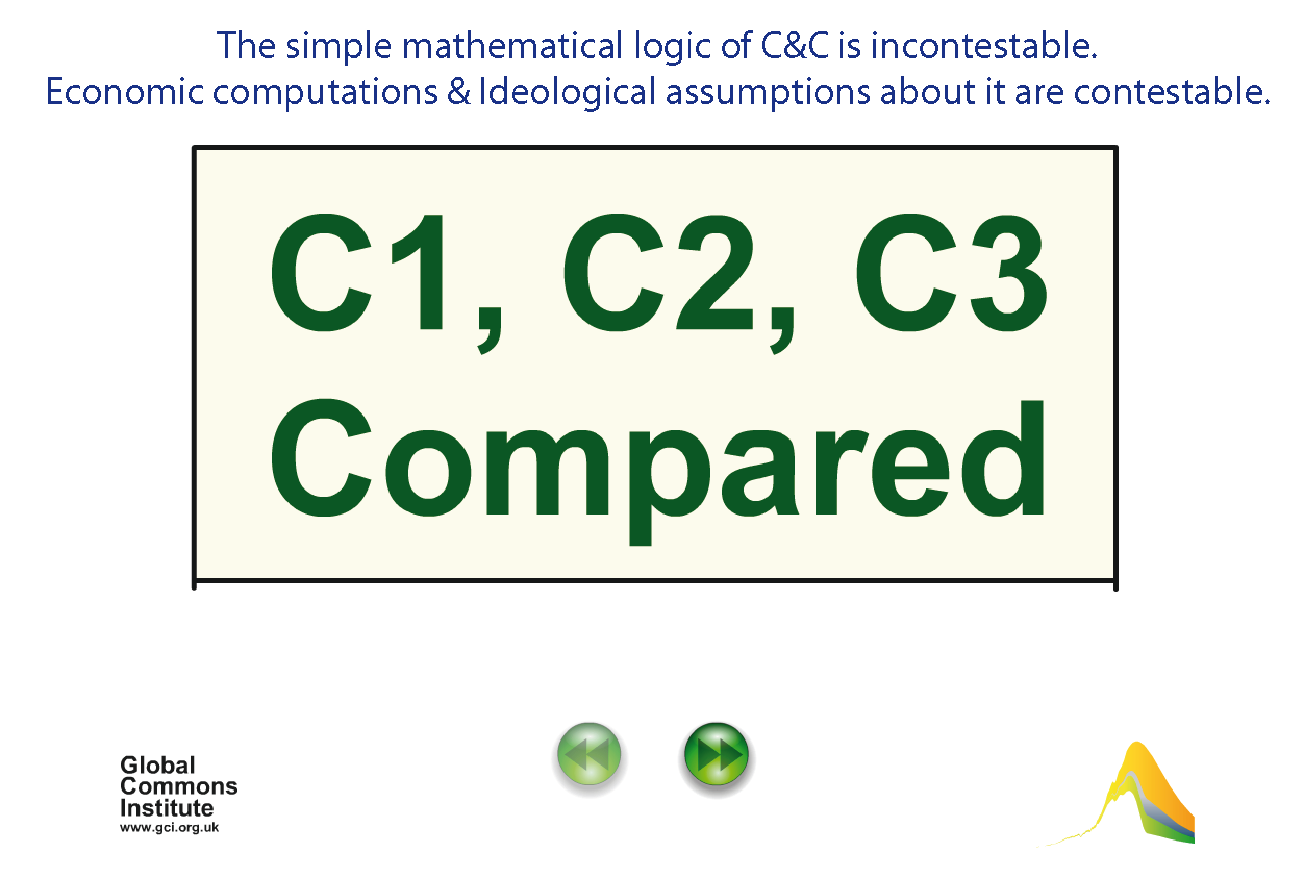 The rates for Contraction:Concentrations and Contraction:Convergence
are compared in this animation as: -
Acceptable [C1]
Dangerous [C2]
Impossible [C3]
Rates of C&C at four different theoretical rates of sink-failure.
A few more examples of GCI's effort ranging over the last fifteen years follow: -
http://www.gci.org.uk/animations/C&C_COP_15.swf
http://www.gci.org.uk/animations/C1_C2_C3_animations.exe
http://www.gci.org.uk/animations/C1,C2,C3.swf
http://www.gci.org.uk/C&C_Animation.exe
http://www.gci.org.uk/Documents/C&CSlideshow_notes.pdf
http://www.gci.org.uk/movies/Contraction_and_Convergence_Challen_et_al.flv
http://www.gci.org.uk/movies/Contraction_and_Convergence_Risk_Analysis_Sink_Failure.flv
http://www.gci.org.uk/Documents/CPI.pdf
http://www.gci.org.uk/Documents/C&C_Chapter_Levene_Book_.pdf
http://www.gci.org.uk/briefings/RSA_Occasional_Paper.pdf
http://www.gci.org.uk/Documents/ASEF_.pdf
http://www.gci.org.uk/Documents/Korea_C&C_Notes_for_Jeju_.pdf
http://www.gci.org.uk/Documents/PIU.pdf
http://www.gci.org.uk/Documents/UNEPFI_a.pdf
http://www.gci.org.uk/animations/BENN_C&C_Animation.exe
http://www.gci.org.uk/Documents/Benn_DEFRA_15_11_07_.pdf
http://www.gci.org.uk/Documents/ASEF_.pdf
http://www.gci.org.uk/Documents/Korea_C&C_Notes_for_Jeju_.pdf
http://www.gci.org.uk/Documents/PIU.pdf
http://www.gci.org.uk/Documents/UNEPFI_a.pdf

This record is variously recognized: -
http://www.gci.org.uk/endorsements.html
http://www.gci.org.uk/endorsements_UN_Bodies.html
http://www.gci.org.uk/endorsements_UK_Climate_Act.html
http://www.gci.org.uk/endorsements_institutions.html
http://www.gci.org.uk/endorsements_medics.html
http://www.gci.org.uk/endorsements_religious.html
http://www.gci.org.uk/endorsements_population.html
http://www.gci.org.uk/endorsements_ethics.html
http://www.gci.org.uk/endorsements_equity_fairness.html
http://www.gci.org.uk/endorsements_sustainability.html
http://www.gci.org.uk/endorsements_sceptics.html
http://www.gci.org.uk/endorsements_campaigns.html
http://www.gci.org.uk/endorsements_sociology.html
http://www.gci.org.uk/endorsements_academia.html
http://www.gci.org.uk/endorsements_capitalist_socialist.html
http://www.gci.org.uk/endorsements_law.html
http://www.gci.org.uk/endorsements_economists.html
http://www.gci.org.uk/endorsements_politics.html
http://www.gci.org.uk/endorsements_justice_eco_debt.html
http://www.gci.org.uk/endorsements_publications.html